Treadmill Challenge
It's all over.
$1000 raised for Beyond Blue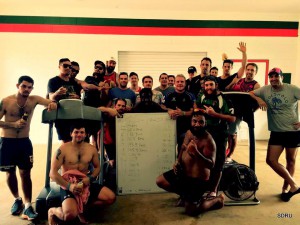 Over 40 runners covered well over 500 kms in 24 hours on 2 Treadmills.
A magnificent club effort that all should be proud of. Special thanks to head coach Tim Atkinson for organising.
"The 24 hr challenge was Tim Atkinson brain child as a chance to mark the end of the solid preseason but also to create an opportunity for some team bonding but most importantly, to raise awareness and some money for Beyond Blue. I think that was all achieved!!
The Rest of the World  team, thin on numbers, were outstanding. 3 guys rotated in 15 minute shifts from about midnight to 3am on their own was incredible. They all ran from 11pm to 5am before heading off to work
Captains of both teams led the way -the Rest of the World captain running the best part of 2 hours in the middle of the day before catching his flight, The Australian captain pumping out around 35 kms for the 24 hr period.
The reps from women's rugby came from the Parap after selling the meat trays and stayed until the early hours, covering important shifts
All the wives, partners and sponsors who came out and had a run – tremendous effort.
All the runners, great job." James De Dassel club President (via Facebook)
SDRUC would particularly like to thank our  loyal supporters of who backed this event such as Scarfe and Turner Travel Associates, Karma Cafe, Ezi Clean Darwin, Rydges Airport Resort, JJs Car Hire, NTRU, South Darwin Sporting League, Remote Workmate and Parap Tavern.
This looks like becoming an annual event on the Rabbits calendar. Well done South Darwin Rugby Union Club!!!
Its not too late to donate! You can still donate via Billy's My Cause page